Pengaruh Gaya Kepemimpinan Transformasional terhadap Komitmen Organisasional dengan Kepuasan Kerja sebagai Variabel Intervening Pegawai Fakultas X di Perguruan Tinggi Y
Keywords:
Kepemimpinan Tranformasional, Kepuasan Kerja, Komitmen Organisasional, Intervening
Abstract
Pandemi yang melanda di berbagai belahan dunia pada saat ini mempengaruhi pola kerja setiap individu dan organisasi, saat pandemi, tantangan organisasi Pendidikan Tinggi adalah untuk bertahan atau meraih sukses dengan memenuhi semua indikator keberhasilan kinerjanya. Salah satu faktor yang mempengaruhi keberhasilan kinerja organisasi perguruan tinggi adalah komitmen organisasional yang dipengaruhi gaya kepemimpinan, Kepemimpinan pada organisasi pendidikan tinggi pada umumnya menerapkan kepemimpinan demokratif/transformasional sedangkan komitmen organisasional memberikan pengaruh terhadap perilaku kerja seperti kinerja, kepuasan kerja, absensi pegawai dan juga turn over pegawai. Obyek penelitian pada fakultas X di Institusi Pendidikan Tinggi Y di Jawa Timur yang mengalami penurunan performa pada awal pandemik dan harus memperbaiki performa pada tahun kedua pandemi dan seterusnya memerlukan berbagai masukan dari sisi kajian manajemen sumber daya manusia, didapatkan hasil kajian Kepemimpinan Transformasional berpengaruh signifikan terhadap Kepuasan Kerja, Kepuasan Kerja memiliki pengaruh yang signifikan terhadap terhadap Komitmen Organisasional, dan Kepemimpinan Transformasional memiliki pengaruh signifikan terhadap Komitmen Organisasional melalui Kepuasan Kerja sebagai variabel intervening dengan menggunakan analisis metode PLS.
References
Ahmed, Imtiaz, et al. 2013. "Employee Performance Evaluation: a Fuzzy Approach". International Journal of Productivity and Performance Management. Vol. 62. No. 7. Pp. 718-754.
Aranya, N., R. Lachman and J. Amernic. 1982. "Accountants'Job Satisfaction: A Path Analysis". Accounting, Organizations and Society. Vol. 7. No. 3. pp. 201-215.
Arikunto, Suharsimi. 2002. Manajemen Penelitian. Jakarta: Rineka Cipta.
Armstrong, Michael. 1999. The Art of HRD: Human Resource Management (Vol 2) London: Crest Publishing House.
Badeni. (2013). Kepemimpinan dan Perilaku Organisasi. Bandung: Alfabeta.
Bass, B. M., & Avolio, B. J. (1995). MLQ, Multifactor leadership questionnaire. Redwood City, CA; Mind Garden.
Bass, B. M. & Avolio, B. J. (2000). MLQ Multifactor Leadership Questionnaire. Redwood City: Mind Garden.
Bavendam, J. 2000. "Managing Job Satisfaction". Special Report, Vol 6, Bavendam Research Incorporated, Mercer Island.http://www.bavendam.com/
Bernardin, H. John and Joyce, E.A. Russel., 1993. Human resource Management An Experiental Approach. Series In Management. New York: McGraw-Hill.
Burns, J. M.(1978). Leadership. New York: Harper & Row.
Byars, L.L and L.W. Rue., 2000. Human Resource and Personal Management. United State of America : Richard D. Irwin. Inc.
Cummings, G. G., Macgeregor, T., Davey, M., Lee, H., Wong, C. A., Lo, E., Muise, M., & Stafford, E. (2010). Leadership styles and outcome patterns for the nursing workforce and work environment: A systematic review. International Journal of Nursing Studies, 47, 363-385.
Daft, Richard, L. (2011). The Leadership Experience (5th ed). South Western Publication.
Davis, K dan Newstrom. (1995). Perilaku dalam Organisasi. Jakarta: Erlangga.
Davis, Keith (1985). Perilaku Dalam Organisasi, Jilid I, Edisi 7. Jakarta : Penerbit Erlangga.
Davis, Keith and Newstrom, John W. 1993. Organizational Behavior. United States of America: McGraw-Hill International Book Company.
Dessler, Gary. 1998. Manajemen Sumber Daya Manusia. Edisi Bahasa Indonesia. Terjemahan. Jakarta : PT Prentice Hall Inc.
Evan, J.R, and William M. Lindsay. 2006. The Management and Control of Quality. 5th edition. South Western: Thomson Learning.
Ghozali, Imam. 2001. Aplikasi Multivariat. Edisi I. Semarang: Universitas Diponegoro.
Gibson, James L, John M. Ivancevich dan James H. Donnely Jr.. 1996, Organisasi dan Manajemen : Perilaku, Struktur, Proses, Edisi Keempat, Terjemahan, Jakarta: Erlangga.
Gruenberg, B. 1980. The happy worker: Ananalysis of educational and occupational difference in determinants of job satisfaction. American journal of sociology. 86,247–271.
Handoko, T. Hani., 2001. Manajemen Personalia dan Sumber Daya Manusia, Yogyakarta : Andi Offset.
Heidjrachman, Ranupandojo dan Husnan, Suad. 2002. Manajemen Personalia. Yogyakarta : BPFE.
Hemphill, J. K., & Coons, A. E. (1957). Development of the leader behavior description questionare. Colombus: Bereau of Bussiness Research, Ohio State University.
Hersey, P., dan Blanchard, K. 1992. Manajemen Perilaku Organisasi. Jakarta: Erlangga.
Hidayah, Noer. Fernanda, Jerhi Wahyu (2021) Analisis Penerimaan Aplikasi Pembelajaran Online Menggunakan Technology Acceptance Model 3 dan Partial Least Square Structural Equation Model (PLS-SEM). Jurnal Factor M Vol 3 no.2. DOI: 10.30762/factor-m.v3i2.3097
Ilyas Yaslis. (2005). Kinerja, Teori dan Penelitian. Yogyakarta: Liberty.
Jean, L. 2004. 'Effect of Leadership and Leader-Member Exchange on commitment Leadership and Organizational ', Developmental Journal, vol. 26 no 8, pp. 655–72.
Karsono. 2008. Pengaruh Komitmen Organisasi Terhadap Kinerja dengan Motivasi dan Kepuasan Kerja sebagai Variabel Pemediasi. Jurnal Akuntansi Bisnis. Vol.8(2): 151 – 164.
Kreitner dan Kinichi (1998), Organization Behavior. Irwin. McGraw-Hill, Boston.
Luthans, Fred. 1995. Organizational Behavior. Seventh edition. New Jersey: Prentice Hall,Inc.
--------------------. 2005. Organizational Behavior. Nine Edition. New York: McGraw-Hill.
Mangkunegara, Anwar Prabu. 2001. Manajemen Sumber Daya Manusia Perusahaan. Bandung: PT Remaja Rosdakarya.
McShane, Steven L. dan Mary Ann Von Glinow, 2000. Organizational Behavior. United States of America: McGraw-Hill Companies.
Miles, S. J., & Mangold, G. (2002). The impact of team leader performance on team members' satisfaction: the subordinate's perspective. Team Performance Management: An International Journal, 8(5/6), 113-121.
Miller, L.E. 1991. Agr. Edu 885 research methods. Ohio State University.
Moncrief, W. C., Babakus, E., Cravens, D., Johnston, M. 1997. Examination the Antecedent and Concequences of Salespeoples Job Stress. European Journal of Marketing Examining / Salesperson Job Stress, Vol. 31, No. 11/12, pp. 786-798.
Rivai, Veithzal. (2005). Manajemen Sumber Daya Manusia Untuk Perusahaan, Dari Teori Ke Praktek. Jakarta: PT. Rajagrafindo Persada.
Robbins, Stephen P. 2001. Perilaku Organisasi, Edisi Bahasa Indonesia. Jakarta: PT. Prenhallindo.
Roseman, Edward. 1981. Managing turnover: A positive approach. New York: Amacom.
Schepers, J., Wetzels, M., & Ruyter, K. D. (2005). Leadership styles in technology acceptance: do followers practice what leaders preach? Managing Service Quality, 15(6), 496-508.
Stup, R. E. (2005). Human resource management and dairy employee organizational commitment. The Pennsylvania State University, Pennsylvania.
Sugiyono. 2010. Metode Penelitian Administratif. Bandung: Alfabeta.
Van Scooter, J.R. 2000. "Relationship of Task Performance and Contextual Performance With Turnover, Job Satisfaction, and Affective Commitment", Human Resource Management Review, 10 (1) : 79-95.
Yousef, D.A. (2000), "Organizational commitment: a mediator of the relationships of leadership behavior with job satisfaction and performance in a non-Western country", Journal of Managerial Psychology, Vol. 15 No. 1, pp. 6-24.
Yukl, G.A. 1989. Managerial Leadership A Review of Theory and Research, Journal of Management Vol 15 No. 2, PP 251–289.
Yukl, Gary. 2010. Kepemimpin?n Dalam Organisasi (Edisi Kelima). Alih bahasa: Budi Supriyanto. Jakarta: PT. Indeks.
Yuwono, dkk. 2005. Psikologi Industri dan Organisasi. Cetakan pertama. Surabaya: Fakultas Psikologi Unair.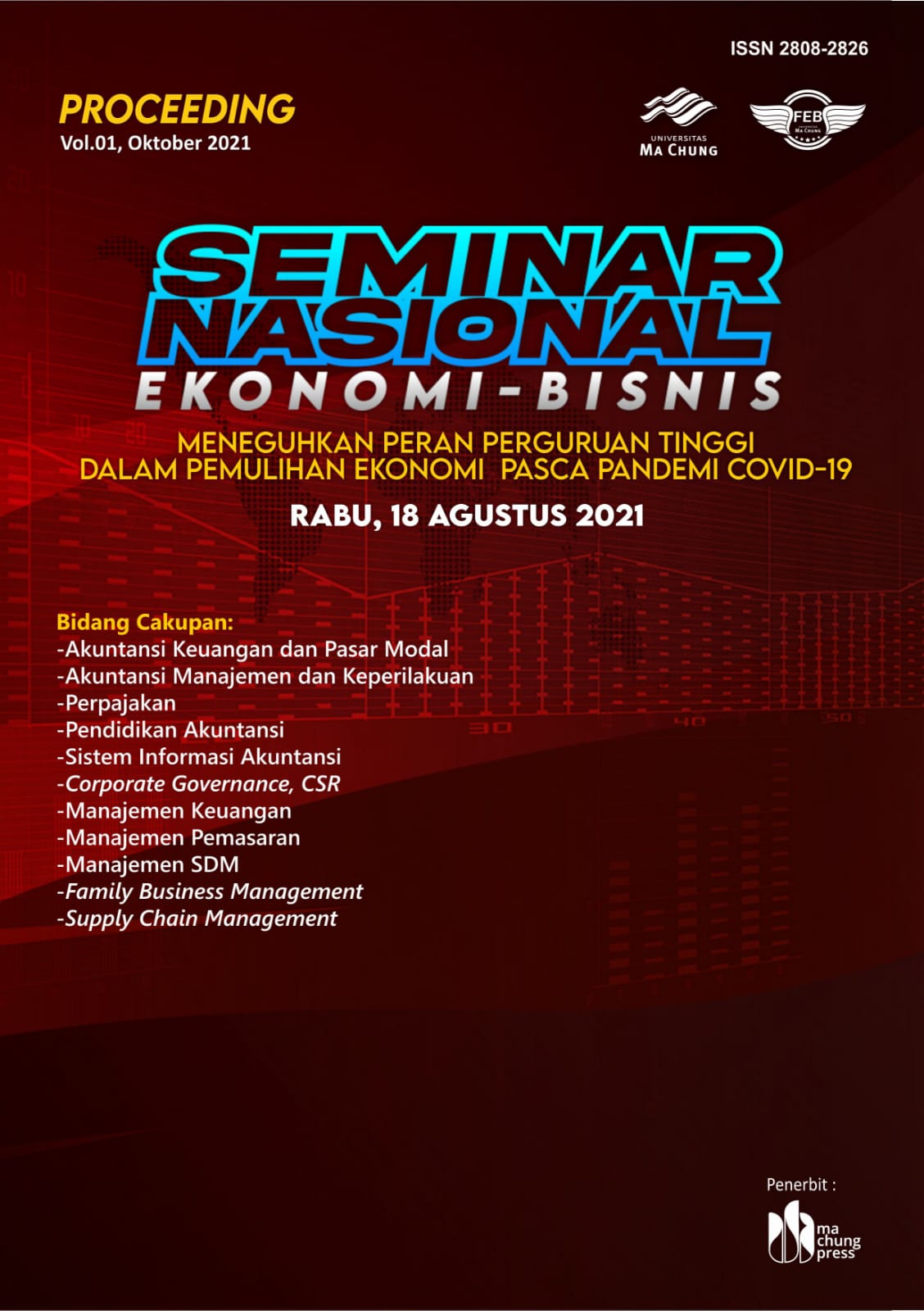 Downloads