Usulan Kinerja Green Logistic dengan Pendekatan Root Cause Analysis guna Meningkatkan Re- Order Point yang Efektif
Keywords:
Green, Logistic, Preform, RPN, Re- order point
Abstract
Konsep manajemen persediaan akan dipuncakkan untuk mencapai green logistic. Pertumbuhan ekonomi mengakibatkan perusahaan manufaktur harus menerapkan efisiensi yang ramah lingkungan. Efisiensi ramah lingkungan tidak hanya fokus pada lingkungan sekitar perusahaan. Efisiensi ramah lingkungan menggunakan pendekatan Green Logistic demi mencapai kinerja optimal. Green logistic sebagai puncak akhir pencapaian dalam konsep manajemen persediaan. Tujuan penelitian 1) untuk membandingkan nilai pemesanan kembali secara eksisting dengan metode Re-Order Point pada Preform Clear 600 ml, 2) untuk meningkatkan peran Green Logistic pada Preform Clear 600 ml. Metode analisis data diawali dengan mengitung nilai Re – Order Point dibandingkan dengan kondisi pemesanan secara eksisting. Tahap kedua menggunakan metode FMEA untuk mengetahui indikator dengan nilai RPN tertinggi ranking 1, 2 dan 3. Tahap ketiga membuat diagram fishbone dengan melakukan brainstroming untuk mengetahui usulan yang tepat dalam mencapai green logistic. Penelitian ini menghasilkan bahwa Perbandingan nilai pemesanan kembali secara eksisting sebesar 2.000.000 buah preform 600ml sedangkan metode Re-Order Point sebesar 2.284.174 pada Preform Clear 600 ml, sehingga efektifitas laba dengan acuan  Re-Order Point lebih menguntungkan, 2) Peran Green Logistic pada Preform Clear 600 ml dengan usulan pengembangan Monitoring dan pelatihan pekerja di bidang logistik perlu di tingkatkan 1 bulan, evaluasi persediaan lebih baik menerapkan metode analisis Re – Order Point dan meningkatkan jadwal kedatangan preform 600 ml dengan langkah meeting pra- kedatangan preform 600 ml
References
Anik Satria Dewi, N., Mulyani, S., & Arnata, I. (2016). Pengendalian Kualitas Atribut Kemasan Menggunakan Metode Failure Mode Effect Analysis (Fmea)Pada Proses Produksi Air Minum Dalam Kemasan. Jurnal Rekayasa Dan Manajemen Agroindustri, 4(3), 149 – 160.
Badariah, N., Surjasa, D., Trinugraha, Y., & Industri, J. T. (2012). Analisa Supply Chain Risk Management Berdasarkan Metode Failure Mode and Effects Analysis (Fmea). Jurnal Teknik Industri, 2(2), 110–118. https://www.trijurnal.lemlit.trisakti.ac.id/tekin/article/view/7021
Braaksma, A. J. J. (2012). Asset information for FMEA-based maintenance [University of Groningen]. In Faculty of Economics and Business. http://hdl.handle.net/11370/ef38be1a-5fb1-4ecd-b39b-1b2dc0d39978
Fachry Hafid, M., & Muh Syukur Yusuf, A. (2018). Analisis Penerapan Quality Control Circle Untuk Meminimalkan Binning Loss Pada Bagian Receiving Pt. Hadji Kalla Toyota Depo Part Logistik Makassar. Journal of Industrial Engineering Management, 3(2), 1. https://doi.org/10.33536/jiem.v3i2.228
Hamdy, M. I., & Masari, A. (2020). Penerapan Re Order Point (ROP) dan Safety Stock pada Pengadaan Chemical Demulsifier dan Chemical Reverse Demulsifier. Jurnal Teknik Industri: Jurnal Hasil Penelitian Dan Karya Ilmiah Dalam Bidang Teknik Industri, 5(2), 87. https://doi.org/10.24014/jti.v5i2.8998
Hertini, E., Anggriani, N., Mianna, W., & Supriatna, A. K. (2018). Economic Order Quantity (EOQ) Optimal Control Considering Selling Price and Salesman Initiative Cost. IOP Conference Series: Materials Science and Engineering, 332(1). https://doi.org/10.1088/1757-899X/332/1/012013
Hudori, M. (2018). Formulasi Model Safety Stock dan Reorder Point untuk Berbagai Kondisi Persediaan Material. Jurnal Citra Widya Edukasi, 10(3), 217–224. https://journal.cwe.ac.id/index.php/jurnal_citrawidyaedukasi/article/view/109/98
Indrasari, L. D. (2020). Penerapan Single Exponential Smoothing (SES) dalam Perhitungan Jumlah Permintaan Air Mineral Pada PT. Akasha Wira International. JATI UNIK: Jurnal Ilmiah Teknik Dan Manajemen Industri, 3(2), 87–98.
Indrasari, L. D., Nursanti, E., & Vitasari, P. (2014). MODEL STRATEGI GREEN LOGISTIC ( PENYIMPANAN ) PADA PERUSAHAAN MODAL ASING PT. XYZ. Engineering - Jurnal Bidang Teknik Fakultas Teknik Universitas Pancasakti Tegal.
Ivanov, D., Tsipoulanidis, A., & Schönberger, J. (2017). Production and Material Requirements Planning. In Global Supply Chain and Operations Management: A Decision-Oriented Introduction to the Creation of Value (pp. 317–343). Springer International Publishing. https://doi.org/10.1007/978-3-319-24217-0_12
Mangla, S. K., Luthra, S., & Jakhar, S. (2018). Benchmarking the risk assessment in green supply chain using fuzzy approach to FMEA: Insights from an Indian case study. Benchmarking, 25(8), 2660–2687. https://doi.org/10.1108/BIJ-04-2017-0074
Nobil, A. H., Sedigh, A. H. A., & Cárdenas-Barrón, L. E. (2020). Reorder point for the EOQ inventory model with imperfect quality items. Ain Shams Engineering Journal, 11(4), 1339–1343. https://doi.org/10.1016/j.asej.2020.03.004
Nugroho, A. J. (2017). Evaluasi Gangguan Jaringan Telepon dengan Kombinasi Metode Fault Tree Analysis dan Failure Mode And Effect Analysis. Jurnal Ilmiah Teknik Industri, 16(2), 88. https://doi.org/10.23917/jiti.v16i2.2420
Prokop, D. (2011). Green logistics and supply chain management. In Green Finance and Sustainability: Environmentally-Aware Business Models and Technologies. https://doi.org/10.4018/978-1-60960-531-5.ch020
Seroka-Stolka, O. (2014). The Development of Green Logistics for Implementation Sustainable Development Strategy in Companies. Procedia - Social and Behavioral Sciences, 151, 302–309. https://doi.org/10.1016/j.sbspro.2014.10.028
Sutrisno, A., & Lee, T. (2011). Service reliability assessment using failure mode and effect analysis (FMEA): survey and opportunity roadmap. International Journal of Engineering, Science and Technology, 3(7), 25–38. https://doi.org/10.4314/ijest.v3i7.3s
Trivellas, P., Malindretos, G., & Reklitis, P. (2020). Implications of green logistics management on sustainable business and supply chain performance: evidence from a survey in the greek agri-food sector. Sustainability (Switzerland), 12(24), 1–29. https://doi.org/10.3390/su122410515
Umry, T. F., & Singgih, M. L. (2019). Inventory Management and Reorder Point (ROP) Strategy Using ABC Analysis Methods in Textile Manufacture. IPTEK Journal of Proceedings Series, 0(5), 358. https://doi.org/10.12962/j23546026.y2019i5.6355
Waisul, F., Rusmana, K., & Hidayat, S. (2017). ANALISIS HAMBATAN DAN REKOMENDASI SOLUSI PADA PROSES OUTBOUND LOGISTIC PT XYZ DENGAN SEVEN TOOLS DAN FMEA. Seminar Nasional Inovasi Dan Aplikasi Teknologi Di Industri 2017, 1–5.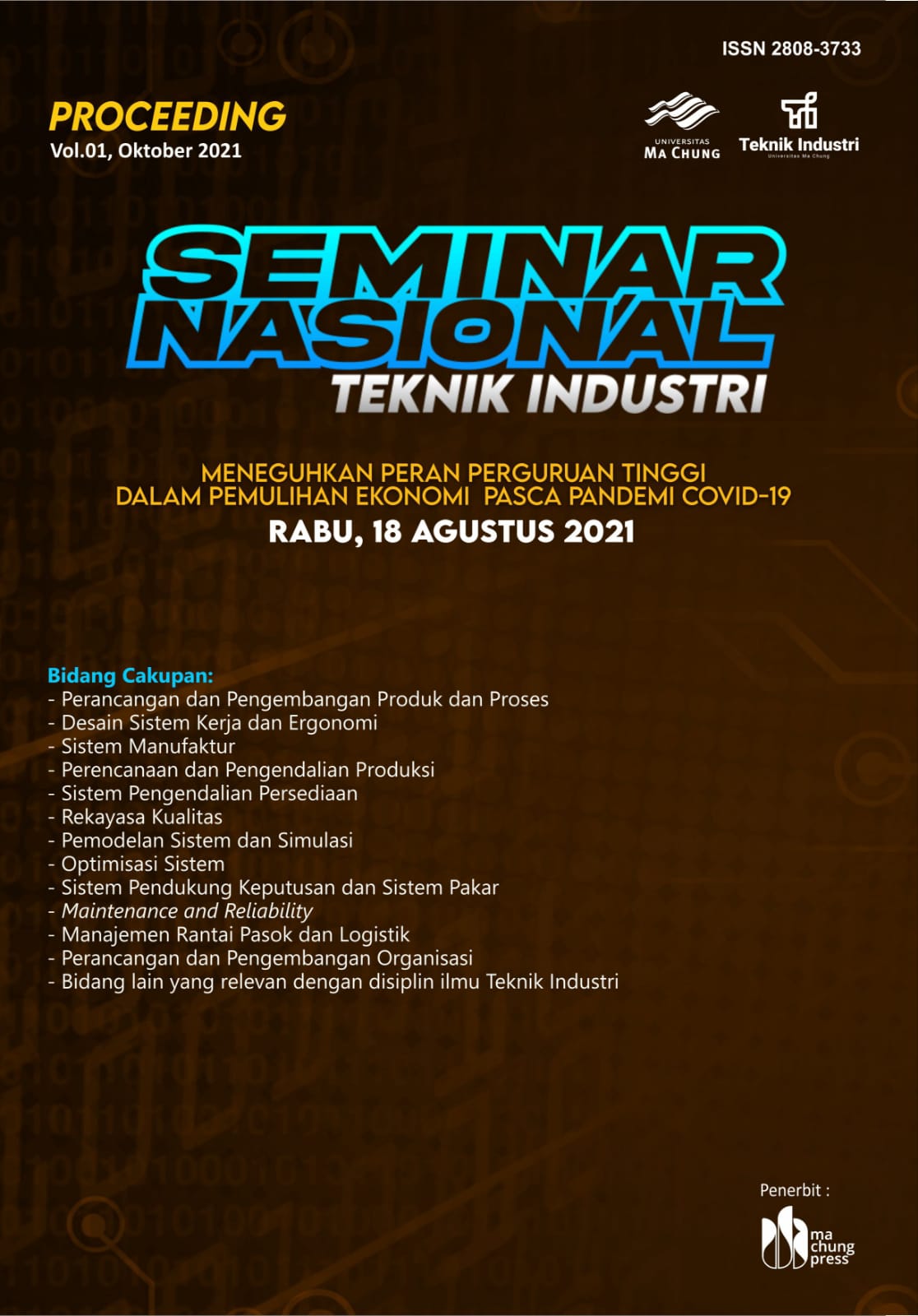 Downloads